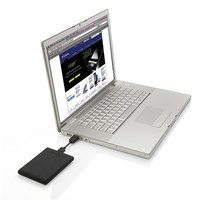 Verbatim promotes the Titan XS™ as the smallest portable hard drive in the world.  About the size of a cellphone this rugged little drive is covered in shock-resistant rubber that protects it from the bumps it might encounter during daily use.
The Verbatim Titan XS has a USB 2 interface and comes in 320GB, 500GB and 1TB sizes.  The drive is pre-formatted in Windows FAT32 and contains Nero BackitUp & Burn Essentials software with full  back up and restore functions.  Additional bundled software includes Norton Online Backup and eMusic offers.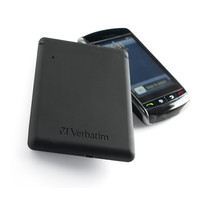 The Titan XS is approximately 4"x3" and .5" thick.  The drive is completely encased in a Silicone rubber material which isolated the drive from shock and also insulates it somewhat too.  Although the drive does get a little warm when used for long read and write sessions we found it performed admirably.
Verbatim Backs this drive up with a full Limited 7 year warranty (so make sure you save the receipt).
Pros:
Small, tiny and light weight
Rubber shell provides great protection from the elements and shock
USB 2 Interface
Fairly quiet
Cons:
Pre-installed software bundle (we always hate that)
Very short 4" USB cable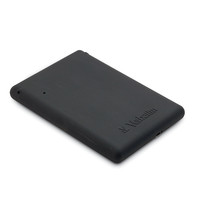 I personally use this drive with a MacBook Pro and find it convenient to carry in my laptop bag or jacket pocket.  So far the drive has performed flawlessly and has taken it's share of bumps along the way.  While some may find the supplied 4" USB cable too short for their application Verbatim made it this way so it wouldn't clutter up the desktop or get in the way.  The pre-installed software may be a bonus for some windows users but for most windows and mac buyers it's more of an annoyance and we wish they wouldn't pre-install it on the drive.  Mac users will have to reformat the drive to HFS and both mac and pc users will have to reformat or trash the software bundle to gain more drive space.
If your looking for a durable, compact hard drive for your laptop or pc I highly recommend the Verbatim Titan XS™.  Users who require faster read/write times may wish to consider the Verbatim Titan XS™ Super Speed drive which has a USB 3 interface for 10 times faster transfer speeds if your laptop or PC supports USB 3.